--How you see yourself by the end of the year--
I have a few different things that I would like to see as big changes for me by the end of the year. The first thing that I want to complete is my goal of losing the 50 lbs that I have gained so that I am smaller again. I want to feel healthy and to try to ease the strain on my body from this extra weight. I am one of 50 bloggers who are doing Shaklee's Cinch It program for 6 months and I am very excited! You can follow me on my blog HERE.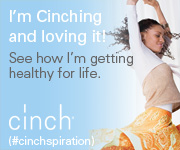 The other big thing that I am looking forward to is graduating from college this year. I will finally have my BA in Health Care Administration and I hope to have a job in the field by the end of the year as well.