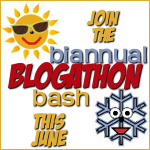 I just signed up for the Biannual Blogathon Bash! I have never done this, but I think that it sounds fun and could be interesting! If you are interested in this see what it is all about below!!!
The Biannual Blogathon Bash is a twice yearly event designed for bloggers to get much needed work done on their blog. This one is
from June 15-18th.
All bloggers are welcome. The event is 72 hours, do as much blogging as you can during this time. Aim for 24 hours total but we are flexible! We will have mini challenges (fun, easy projects that will better your blog) and prizes to be won. In between blogathons, watch for posts about blogging.